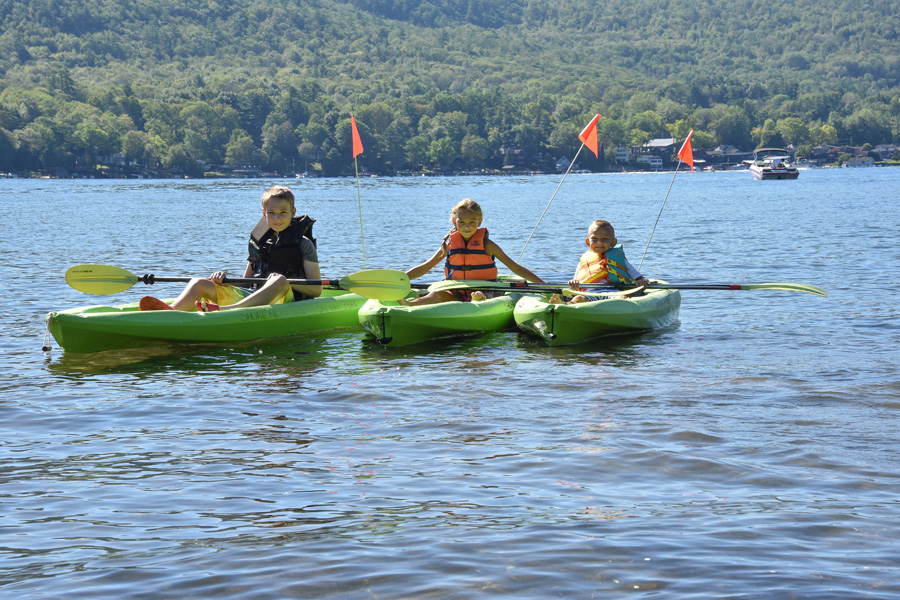 Kayaking is an activity the whole family can enjoy. In fact, the shallow launch area at Kayak Lake George makes it especially easy for kids and beginners. We provide U.S. Coast-Guard-approved life jackets and basic guidelines and instructions, so you don't need to be an experienced kayaker or a strong swimmer. However, we do recommend following a few guidelines when kayaking with kids.
Kayak Safety Tips for Children
By following these simple tips, parents can enjoy a safe and fun day of kayaking with the kids.
Always a Wear a Life Vest
Life jackets are required in New York State, and should be worn regardless of water depth or a swimmer's skill level. There are different size requirements for children of different weights. Kayak Lake George provides child-, youth- and adult-size life jackets.
Choose a Safe Location
It's best to avoid waters with high currents, waves or heavy boat traffic when kayaking with kids. Kayak Lake George is located in a no wake zone with shallow water, and our area of the lake is typically calm and safe.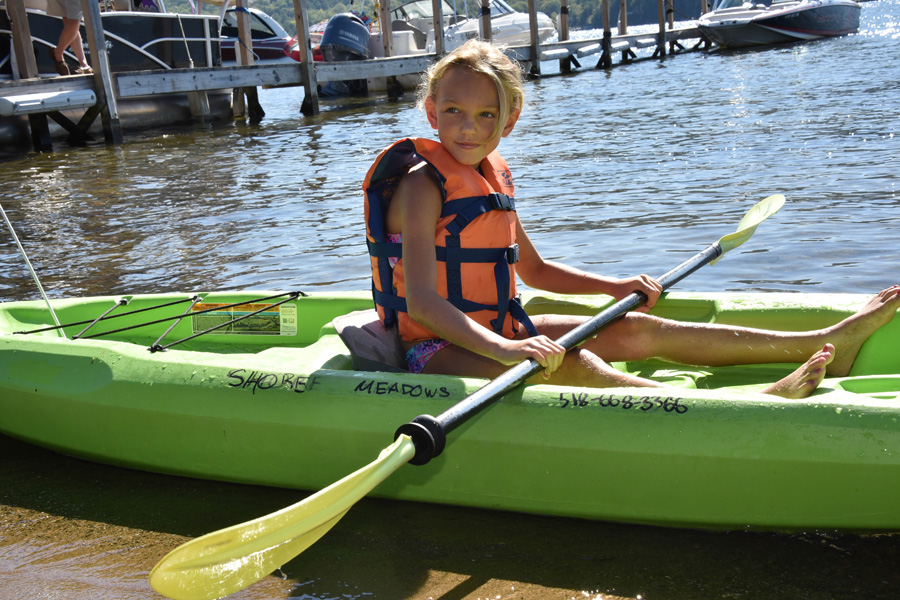 Tandem or Solo Kayak?
For children ages four to seven, we typically recommend duffing, or sitting in the front seat of a tandem kayak with an adult steering in the back. Children over the age of seven can usually begin paddling on their own in a single kayak. Please note that you should never strap a child into a kayak, as it could be extremely dangerous if the kayak were to capsize.
Select a Smaller Paddle
Child-specific paddles are easier for kids to manage. They are typically shorter, lighter and have smaller blades than regular kayaking paddles. Kayak Lake George has paddles of various lengths and sizes to accommodate kids.
Master a Few Skills
Even when wearing a life vest, children should know how to get in and out of a kayak and what to do if they tip over. Before you begin your kayak adventure, Kayak Lake George will provide your family with basic guidelines, instructions and safety techniques.
Know Your Child's Limits
Children under the age of seven can typically paddle for only 15-30 minutes before tiring. Over the age of seven, kids develop more strength and can paddle for upwards of 30 minutes to an hour. Make sure to plan a route that's feasible for your child, and be prepared to take breaks.
Set Some Rules
It's important to set a few ground rules, such as no standing on kayaks, and no jumping in or out of the kayak without permission. Likewise, paddles are not toys and should not be used for jousting or anything other than paddling.
Plan a Kayak Adventure with Your Kids
Ready to plan your family's kayak adventure? Visit Kayak Lake George. We are located at Shore Meadows Lodge in Lake George Village and are open daily from May through September. We have both single and double kayaks, standup paddleboards and paddle boats for rent. Walk-ins are always welcome.