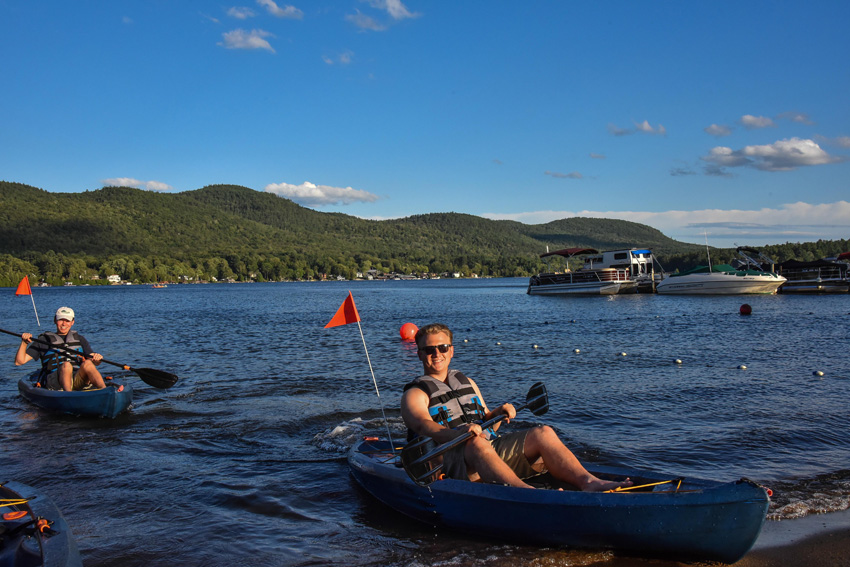 Lake George is one of the safest, cleanest lakes in the United States and by following the leave no trace guidelines established by the Center for Outdoor Ethics, we can all help to keep it that way.  In addition to protecting our lakes and public lands, these seven principles are designed to help you prepare and stay safe while kayaking Lake George.
1. Plan Ahead and Prepare
Be aware of your group's skill level and limitations, and always base your distance and route on the least experienced individual in your group. Check the weather report, dress accordingly, and be sure to familiarize yourself with all applicable laws and regulations, including NY's life jacket requirement.
2. Travel and Camp on Durable Surfaces
If you're planning to camp on your Lake George kayaking trip, be aware of Adirondack land restrictions. Camping is prohibited within 150 feet of the lake, or any stream, spring, pond, trail or road, unless otherwise noted as an approved site with a designated "camp here" marker.
3. Dispose of Waster Properly
Maintain a "Carry in Carry Out" policy, including food scraps, dog waste (Kayak Lake George does not allow pets) and toilet paper. Do not wash clothing, dishes or yourself within 150 feet of the water and, if bathroom facilities aren't available, bury human waste in a hole at least 6 to 8 inches deep and 200 feet from water sources.
4. Leave What You Find
Leave no trace also means leaving nature undisturbed. Do not cut down or carve into trees, rocks or structures, such as outhouses and lean-tos. Refrain from stacking stones, digging holes, and building structures, and do not pick wildflowers, leaves or other plants.
5. Minimize Campfire Impact
Note that only emergency fires are permitted in the Adirondacks over 4,000 feet. For cooking, use a portable stove, or an established fire ring, if a campfire is necessary. Burn only small sticks and twigs, and be sure to extinguish the fire completely before leaving.
6. Respect Wildlife
Maintain a safe distance from wildlife and do not approach or feed animals. Keep pets under control and away from wildlife, as well, and avoid nesting and mating sites as designated by NYSDEC signs and notices.
7. Be Considerate of Others
Avoid yelling, loud music and other disturbances that might prevent fellow kayakers from enjoying the sounds of nature. Follow paddling etiquette by staying right if you are slower moving, allowing others to pass on the left, and always maintain a clear and consistent direction to avoid collisions.
Remember, the goal is to leave Lake George better than you found it, both for future visits and generations. To learn more about kayaking in the area, visit us at Kayak Lake George. We offer kayak rentals and expert advice at the north end of Lake George Village. Located in a quiet, no-wake zone with a shallow sandy entrance, it's the perfect launch site for those who are new to kayaking in Lake George. Open daily from 9:30 AM to 5:00 PM. Walk-ins welcome.